On this page W.R.U. will share the words od Selassie I, and scripture from the Rastafarian Holy Books, The King James Bible, The Kebra Negast, and The Holy Piby.
The Kebra Negast-The Rastafarian Bible of wisdom and faith. heres a link to an online version of the holy rasta text : http://www.sacred-texts.com/chr/kn/index.htm



This is the most recent version of the Kebra Negast which many members of the Ratsafari commnity own today... heres a link :http://search.barnesandnoble.com/booksearch/isbnInquiry.asp?userid=Sx74CqtBKn&isbn=0312167938&itm=1



THE HOLY PIBY: THE BLACKMANS BIBLE. Original Rasta scripture & prayers, many white and non-black rastas can learn from this holy book of rastafari as well. heres a link : http://www.sacred-texts.com/afr/piby/

King James Version of the Holy Bible. This version is the most accepted among the Rastafari community because of its Authenticity among the english language. heres the link: http://www.sacred-texts.com/bib/kjv/index.htm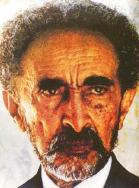 His Imperial Majesty Emperor Haile I Selassie, Root of Solomon and Sheba...selected words...
"We must become something we have never been and for which our education and experience and environment have ill-prepared us. We must become bigger than we have been, more courageous, greater in spirit, larger in outlook. We must become members of a new race, overcoming petty prejudice, owing our ultimate allegiance not to nations but to our fellow men within the human community."

October 6, 1963
Excerpt from the "war" speech

.
Human Diversity


"The very diversity of the worlds peoples today constitutes one of mankind's great resources; the different philosophies with which nations approach their problems lead inevitably to a vast array of methods and techniques. These variations are necessary, for each people must find solutions which are responsive to its particular needs... each nation will inevitably pursue that course which appears best suited to its own unique characteristics, but no nation can pursue its course in isolation, and no nation can develop and prosper with its back turned to the rest of the world in terms of trade, techniques, resources and ideas. Each of us depends on the other, can learn from the other, and in pursuing it's own destiny will go further and succeed more quickly with others, Indeed, the free exchange of support and ideas is an essential condition to world understanding and equally to world progress."